Matthew Fredrick Riddle or Matt Riddle is the rising star in the WWE. Debuted in 2015, Matt Riddle soared through NXT ever since.
Winning titles and beating people in the ring with his agility made him a fan favorite. While most wrestlers wear boots, Riddle prefers to wrestle without them. Hence, his style of wrestling with bare feet is also a remarkable sight to see.
Having roots in mixed martial arts, Riddle had a passion for fighting. This is why the former WWE United States Championship began his career in the Ultimate Fighting Championship tournament.
After competing in many stages in his career, he has gained a massive fanbase. But what has also got the fans talking is his personal life. After all, he lives one of the controversial lives just like other celebrities. As of now, Matt Riddle is married to his wife, Lisa Riddle.
Lisa Riddle is a fitness freak and has dedicated much of her career to shaping up and living a healthy life.
Matt Riddle's Wife, Lisa Riddle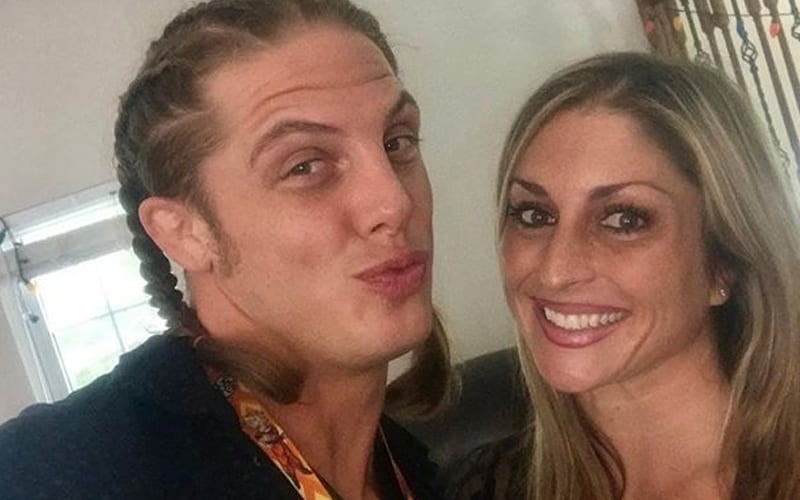 Matt Riddle's wife, Lisa Riddle, may not be a wrestler, but she is equally prolific. Her Instagram bio mentions that she is an Olympic lifter and has represented America in the grandest stages. She is also a Louisiana State University's two times All-American gymnast.
Lisa was born on November 25, 1984, to her parents. They are Steve and Sharon Rennie. Similarly, Lisa grew up with three siblings and spent much of her childhood in Los Angeles.
She completed her high school at Community College. As for her education, Lisa majored in marketing.
Professionally, Lisa is a fitness expert and gymnast. She is active on social media and has 13.7k followers on Instagram.
Achievements
In the 2003 national championships, Lisa Riddle achieved the second position on the bars. Her career-best performance at Bars is 9.950, whereas in Beam is at 9.975. Similarly, on the Floor, it is 9,925.
Apart from this, she is a recipient of the Nevada Silver Scholar Award during her high school. Likewise, Lisa was also on the SEC Academic Honor Roll for four consecutive years from 2004 to 2007.
She also appeared as a challenger on the third season of the American reality television competition show, Steve Austin's Broken Skull Challenge.
Matt Riddle and his Wife Lisa Riddle Love life
As famous as the couple is, they prefer to keep their personal life a secret. Even though the couple has shared their wedding pictures online, there is not much information about their love life. However, they are very protective of one another.
Nonetheless, Matt and Lisa exchanged wedding vows in 2010. The Riddle couple dated for well over a year before deciding to get married.
Matt and his wife Lisa Riddle met before Matt became a famous individual. Moreover, they had a typical taste of fitness. Perhaps that brought the two closer to each other.
As of now, the couple has been together for more than a decade. Moreover, Lisa and her husband have love and admiration for each other. However, a relationship as fragile as marriage is often disturbed by outside interference.
Matt Riddle and His Wife Lisa Riddle Have 3 Children
Despite a bumpy marriage, it is clear that Lisa Riddle still loves Matt Riddle. As proof of their love, she shares three children with Matt Riddle.
Lisa is the mother of twin daughters Amy Riddle and Allison Riddle, who were born in 2011.
Similarly, they had another child in 2014, and this time it was a baby boy. The couple named him Zachary Riddle.
From the social media posts, we can see that they are happy as a family. They enjoy spending time with each other. Matt Riddle does the talking on behalf of the family in interviews. He talks about how Lisa is a strong woman and a great mother.
Extra-Marital Affair
One of the things that hurt a relationship is having affairs. Although Matt promised Lisa to keep her trust while exchanging vows during their wedding ceremony, he failed to keep his pledge. The wrestler openly admitted to having an extra-marital relationship with a fellow wrestler, Candy Cartwright.
This caused so much heat in his relationship and career that Riddle almost lost everything. But above all else, hurting his wife would be the most significant blow for him.
However, Matt Riddle's wife, Lisa, was a strong woman who forgave her better half. Not many are as forgiving as Lisa Riddle. Due to her big heart, Riddle's marriage is still sailing well. Her husband is very thankful for her generosity and regrets cheating on Lisa.
Accusations
In the midst of 2020, when people outcried their injustice using the 'Speaking Out' hashtag on social media, Matt Riddle got into trouble. It was that time when Candy Cartwright accused Matt Riddle of sexual harassment.
As mentioned earlier, Riddle had an affair with a fellow wrestler, Candy Cartwright. She accused Matt of forcing her against her will during a van trip while the driver was asleep.
However, Matt denied the accusation. He even posted a video online denying the accusation though admitting that he was having an affair. In the video, Lisa's spouse directly addressed Candy. He denied sexually harassing a man or a woman.
As of now, Matt has blocked Candy on all social media platforms. According to him, Candy was spreading false accusations because she was hurt when he broke up with her. But no one knows the truth yet.
That's not all. Shortly after Matt posted the video, Lisa Riddle also posted the family picture with a caption saying they are a strong family despite having ups and downs. She also urged others to stop these false allegations. This shows that Lisa is very protective of her family.
Despite being a controversial man, Lisa Riddle trusts her husband to the fullest, and the couple is still together. Lisa has always supported Matt's career, and Matt also shows his admiration for Lisa's success.